This week we took part in an online debate about Wetherspoons and the news they are leaving social media. It looks to many to be a controversial decision based on the widely held belief that social media is the way forward for any company. However, Wetherspoons have been controversial to get in the spotlight before now. They previously announced they would not be showing any world cup football games (suicide for most pubs) and they are still around and as busy as always.
With the social media news they have made headlines around the globe for the last week, hence the debate on Linkedin. In our opinion, it is a sound move because they appear to have lost any form of control of their brand. Relying on managers and bar staff to control their social accounts for each pub can be a disaster waiting to happen. Nothing against bar staff of course, but how do you ensure they stay on brand and keep the content useful and engaging. It appears that most pubs use Facebook to promote special offers or new beers as opposed to talking about their customers. ME ME ME is a big mistake.
The debate centred around business leaders opinion from the Dorset area. James, one of our Directors joined in and has been rewarded with a lengthy quotation by Darren Slade the excellent business editor for The Dorset Echo.
James Chetwode, director of Compass Video in Child Okeford, said it would be impossible to maintain "brand guardianship" over 1,000 individual pubs.
"I would have just kept it to a central brand page to deliver messaging. It's not as if they will ever disappear from social anyway. Customers will always be posting about where they are drinking," he said."The Wetherspoons app is a social network in itself, with over one million downloads and a rating of 4.3 stars – meaning it fares better than the pubs in terms of service."
The link to the full article is here: http://www.bournemouthecho.co.uk/news/16172604.Was_JD_Wetherspoon_right_to_quit_social_media_/?ref=mac
If you want to know more about our opinion on all things social media then give us a call for a chat.
Summary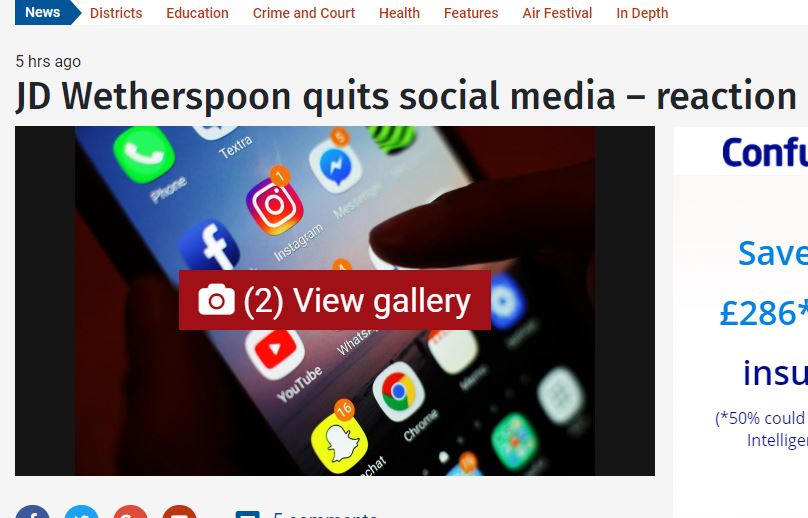 Article Name
Compass Video features in Wetherspoons Social Media debate
Description
Compass Video have been quoted by the Dorset Echo as to our opinion in the Wetherspoons leaving Social Media debate.
Author