Client: Total Foot Health
Type of Project: Google Business Profile and YouTube Channel Management
Total Foot Health have worked with Compass Video in the past to produce video content to support their activities through the COVID-19 pandemic and also for help and advice on the management of thier Google Business Profile and YouTube channels. 
To continue with our work with TFH, working within their small budget, we have coached them to film a series of top tip explainer videos. They sent the footage to us and we used our skills to quickly edit and polish the footage into a quality series that we uploaded to the TFH youtube channel. You can watch the playlist here
It's important for businesses to know the importance of generating content for their potential customers. You are not giving something for nothing, by creating content that is helpful and informative, you can establish yourself as a trusted source of information in your industry and attract new customers who are looking for solutions to their problems.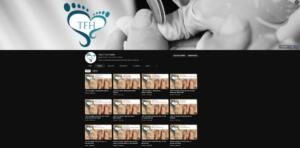 Thank you again for all your help and for being flexible to assist us within our budget. We always enjoy the process and learn new things every time we work together. See you again soon.