We were really pleased to read this week that the CEO of Hootsuite Ryan Holmes is using video to improve his internal communications across the company. As his company has grown from 1 – 20 – 1000 across the globe they have struggled to keep the company moving in the right direction. Departments were becoming siloed and employee churn was on the increase. As part of their efforts, they arranged one to one coffee chats with people from different departments #randomcoffee which we love.
As a result of one of these random coffee moments, it was suggested he start a weekly video update to the whole company. It is what we have been saying for years. Using video allows the senior management to interact intimately with staff quickly and cheaply. The great news is it doesn't cost a thing once you get good at it. Just prop your smartphone on your desk or a tripod and press record. You can then quickly and easily send the video company-wide via Youtube or internally on Slack, Yammer or a multitude of other channels.

What is really great about his is the fact that quality is ignored when communicating internally. The message is much more important and video means it can be consumed anywhere at anytime.
To find out how we can help you with your internal comms why not book one of our smartphone video training programmes. We can help you improve the quality of your self-made videos and demonstrate the power of video as a communications tool.
Summary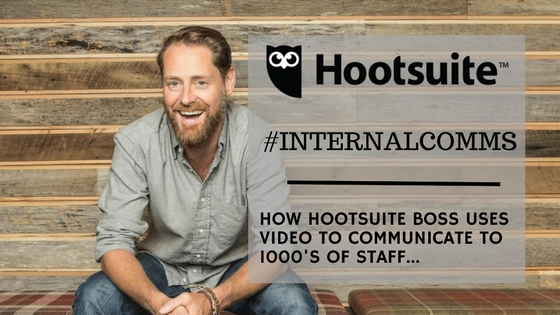 Article Name
Hootsuite Boss uses video to Communicate to 1000s of staff
Description
Find out how Hootsuite boos Ryan Holmes uses Hootsuite to communicate with staff on a weekly basis.
Author
Publisher Name
Publisher Logo